I also would like to give a disclaimer before you dive into this blog post that I am only making reference based on my personal experiences, so your opinion is not up for debate. I will be focusing on Payment Plans and Online Launches.
Let's jump right in.
Payment Plans
The first time that I started offering payment plans was back in 2011. The main purpose of me doing this was so I could charge more money (At least, what I thought was more money) and I needed money coming in every month to pay bills. It was for my graphic design services.
Based on the clients I had at the time $500-$2,000 was a stretch for people to make the payment in full. To process the payment plan, I would take whatever balance they had and divide it into 6 months or 12 months. I had monthly payment plans as low as $13. Yep, you read that correctly.
Collecting payments was a pain because every month people wanted to act like they did not know when their payment was due. Can you imagine e-mailing someone about a freaking $13 payment? When I look back at this, I wish I had someone to guide me, but you live, and you learn. Now let me carry on.
After all of my contract payments came to an end, my cashflow was not so great and I did not want to deal with small payments ever again. It was time to take my business online, but before I did, I needed a job.
At this time, I had been self-employed for six years and recently married. I guess I would say pink notices on the door was my best friend. I took on the job as a Marketing Manager at a local mega church. I stayed there for about five months before I decided to quit.
During this time, I studied what the big dogs were doing, and I knew that in order to have a successful business your company needed cash flow (in other words money coming in consistently.)
Hell, it's the only reason that people don't leave their jobs. The consistent paycheck every 1st and 15th or every two weeks.
I started my online business in 2013, and I got my first online sale on April 18, 2014.
I started offering bigger contracts, which were $5,000 and $10,000. These packages either came with Just Coaching or Coaching & Branding. My background as a Professional Photographer and Graphic Designer came in handy for my Branding Career. I also knew how to help my clients market themselves because of experiences from my past and all the research and investments that I made over time.
All of these CLIENTS NEVER MISSED A PAYMENT AND IF SO, IT WAS LESS THAN 72 HOURS. What I noticed about these types of clients where the ones who are willing to invest more money, I never had issues with. They made other investments if needed and they were more committed to Building Their Brand.
So, as my business continue to grow, I expanded my coaching program from 1 on 1 to a Signature Program at the time it was called Building Big Brands. Building Big Brands is now an Agency. I still offer my signature program but now as three separate programs (Planned for Profits, Branding that Pays, and The Art of Lead Attraction).
When I launched my program as a group program, this is when I started back having payment issues. The monthly payments ranged from $97-$197.
Let me tell you about the three types of people who invest at this level.
I Got the First Payment Sally– This is the client who makes the first payment, but falls off the face of the earth when it's time to get the other payments. They don't even try to pay and typically never finish.
I Must Try It Mia- This is the client who runs thru your program, never finishes it and will blame you for not getting results. She follows you on social media but don't want to be on your email list. She thought that if she invests with you that you would reveal all of your secrets. Little do she know, you have to do the freaking work! She may just downplay the program altogether to not make herself look good.
I Will Commit Debra- This is the client who makes payments on time and actually becomes a raving fan. She show up to all the calls and come with questions. She raves about you on social media, and she wants the world to know how amazing the program is.
I can tell you from experience that I get the I Got The First Payment Sally or I Must Try It Mia most of the times. I am going, to be honest with you. Payment Plans only works if you have an admin that can release you out of it. If you are the only one working in your business, I would suggest not accepting payments from people for programs or services under $600. I have collected a lot of payments in my day and I can tell you that programs and services under $600 with a payment plan will attract these types of people.
I have decided to work with only 2 types of people.
They have the resources to pay in full for my offerings that range from $1-$600. If that person needs a payment plan for an investment at this amount, I would most likely keep it moving. I believe it's a statistic that says when you don't offer payment plans that you leave 20% on the table. Well, I guess I would have to leave it on the table because I don't want 20% of a headache that comes with it.
They have to invest over $1000 with me and must sign a contract. People at this investment level pay on time and I have found rarely quit. They are the most committed and they most likely will do the work.
The Online Launch
Instead of going on and on about this. I actually shared a post on my Facebook Page that speaks to this. Please review the photo below.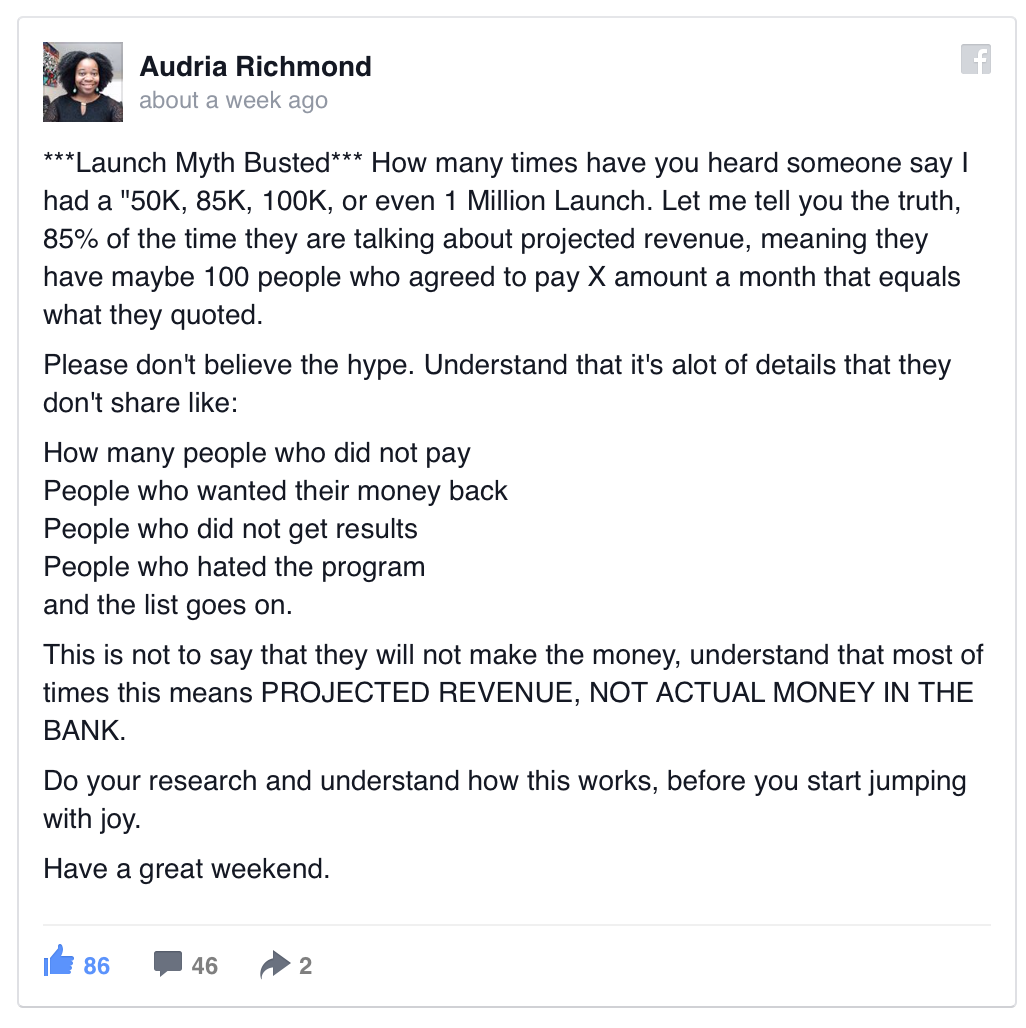 I believe that people should be honest about the money that they make online. I have seen people max out credit cards and spend their life savings with these frauds who claim to make them rich. Some would say that it's the client fault, and they are correct, and I say this because most people don't research before they make investments with people. Google, Forums, and People will tell you the truth about these programs and services before making significant investments.
If you have made it to the end and you are reading this sentence, please let me know what your biggest takeaway was and how will you offer payment plans for your business? I hope this was helpful and if you have questions, please come and join our free 3B Insider's Club at www.3binsiders.club for more updates.
Thanks so much for reading and until next time talk with you soon.
About Our Reviews, Blog Posts, and Recommendations
Thanks for checking out our reviews, product recommendations, and blog posts! Here's a quick note about the reviews, recommendations and blog posts that I add to this site.
For products that are not my own - I usually purchase the products before I start a review or provide a recommendation. In addition, some product vendors provide me direct access to their products in order for me to properly complete my reviews. However, I absolutely DO NOT make any promises to them regarding the results of my tests or what I will write in my review.
Therefore, if you click a link that takes you to a sales page for a paid product for sale, then the link may be an affiliate link that I may be paid a percentage of the sales price should you decide to invest in it.